About Aderans
We form part of the world renowned Aderans Group founded in 1968 with operations across Asia, America and Europe. The Aderans Group is a global leading provider of total hair loss solutions and at the forefront of research and development in the market, providing you with the latest most advanced innovations in hair replacement technology.
Aderans Overview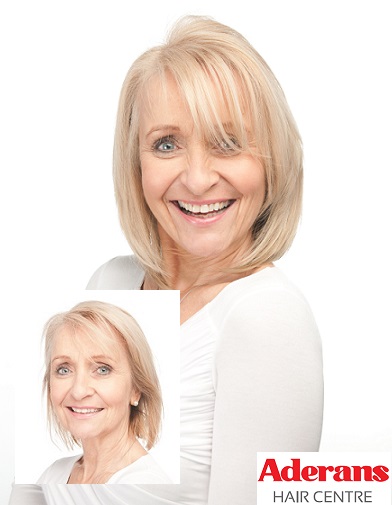 In the 1990's, the Aderans Group developed a breakthrough variety of artificial hair called "Cyberhair" and in 2006, a further innovative variety of artificial hair was developed called "V-Hair", an even greater accomplishment. These are unique and exclusive fibres by the Aderans Group developed for a more active lifestyle but with the same high quality in mind, to feel and act like natural hair.
Our hair consultants have over 30 years' experience in the industry with a vast array of knowledge on hair loss, and can confidently guide you on the best options suitable to you, taking into consideration your specific individual criteria and lifestyle. The most important part for them, is through the work they do, to create smiles on the faces of those going through potentially one of the most distressing times of their life.
We have a wide variety of options available from non-surgical hair replacement systems that can disguise existing hair loss, procedures that replicates hair follicles using the latest techniques for an instant hair loss solution to non-medical treatments that may prevent further hair loss.
Our passion is to make you feel confident and look amazing by providing you with the best hair solution for you and with our reputation of excellence, which we proud ourselves on, you are in the best possible hands.
Call us today on 0207 243 1451 to book a Free No Obligation Consultation to discuss the best option that is right for you and your lifestyle.
Find out more about us and what sets us apart from everyone else.
HAIRCENTER – STOCKHOLM
Carl M Lundh | Storgatan 11 | 114 44 Stockholm
T-bana: Östermalmstorg
HAIRCENTER – GÖTEBORG
Carl M Lundh | Västra Hamngatan 5 | 411 17 Göteborg
HAIRCENTER – MALMÖ
Carl M Lundh | Kalendegatan 12 | 211 35 Malmö
HAIRCENTER – JÖNKÖPING
Carl M Lundh | Borgmästargränd 1 D | 553 20 Jönköping
HAIRCENTER – KALMAR
Carl M Lundh | Funkabotorget 1 | 393 52 Kalmar
T: 0200-219 100
6 Allée Des Saules,
94000 Créteil
T: 
(+33) 1 48 90 30 60
www.aderanshaircenter.fr

Established in 1965, Trendco is one of the UK's largest suppliers of wigs and hairpieces and proud of their longstanding reputation for excellence in the hair loss industry. As part of the global hair loss company Aderans, Trendco supplies top quality products across the UK & Ireland. They also have their own retail salons in London, Hove, Birmingham, Manchester, Nottingham, Liverpool and Edinburgh.
High on Trendco's priority list is the 'necessity' wearer, clients who have lost all or most of their hair due to alopecia, chemotherapy, radiotherapy or even naturally thinning hair loss. These special requirements of all wearers are recognised in Trendco's wonderful lightweight, natural looking ready-to-wear collections.
Trendco stock a large range of wigs, hairpieces and hair systems and all of their salons offer a cut and style service by qualified hairdressers, experienced in wig cutting.
The development and research team at Trendco are constantly exploring new advanced materials and techniques with the aim to continue to be at the forefront of all that is new and the very best in the hair replacement industry.
Please call the Aderans UK Ltd t/a Trendco Head Office in Hove on 01273 774977 to find out more.